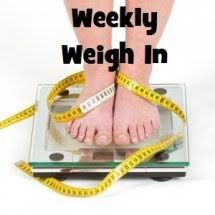 I completed my week 7 on

Nutrisystem

. This week tough for me because I was sick. I had zero appetite. BUT…I made myself eat all my servings. That was hard. It felt like I was stuffing myself. The good thing is I did not cheat at all because like I said I was not hungry. I simply stuck to the plan. It must have worked because I was SHOCKED when I weighed this morning!
Ready for my weigh in? Drum Roll Please…..
4.2 pound lost this week!
For a total of 17.2 pounds LOST!
AND… Joel (my husband) completed week 2.
How did he do?
He is still doing AMAZING!
I am so proud of him. He is sticking to the plan! He records everything in his meal planner. I think that has been key for him. I have not hear him say even once that he was hungry! And my husband loves to eat so that is HUGE!
Ready for HIS weigh in?
Drum Roll Please…..
HE LOST 2 POUNDS this week!
For a total of 10 pounds lost!
Starting Weight
189.8
Week 1
181.2
Week 5
177.8
Week 6
176.8
Week 7
172.6
Your support is very important

!Thank you for joining me on this scary yet exciting journey! Please also support my friends Heather at
Our Kids mom
and Melissa at
Sippy Cup Mom
as they also share their Nutrisystem Experience and join me on this mission to LOSE!
Join in the Nutrisystem Bloggers conversation on Twitter using #NSNation.


**If you are interested in joining or learning more about Nutrisystem you can do so here or call 888-853-4689. All products have been provided to me free of charge as a selected blogger of the Nutrisystem Nation Blogger Program. All opinions are 100% mine and no monetary compensation was given for my opinion.**