Welcome to Women in the Word
(Fellowship on Wednesday)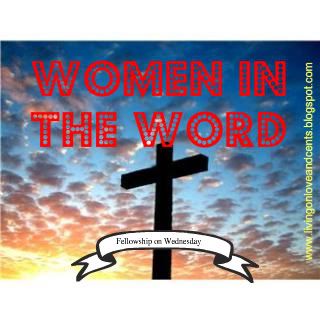 Living on Love and Cents and  Flutterbys And Frogs have joined together to bring you something new. I hope you will join us! One of my resolutions is to spend more time in the reading the bible (in the word). So I thought it would be great to share with my readers once a week and have you share your time "in the word" as well. Every Wednesday we will post my "Women in the Word Fellowship on Wednesday" Post. There is a linky at the end and we would love to have you join us. You do NOT have to post a devotion, scripture or anything unless you want. If you have words of encouragement or a devotion post to link up that would be awesome!(But not required!) If you are a "Woman in the Word" and would like to find other Christian Bloggers –link up! Please grab the linky code and button and spread the word about our fellowship! I am looking forward to our fellowship! I hope we can all encourage one another each week!
Now for my weekly "Women in the Word" time!
Today is a GIFT FROM GOD! What will you do with it?
Will I open it with worry?
Will I open it with anger?
 I thought about these things this morning as I laid in bed with my kids. They do not sleep with me but they wake up so early that I always bring them back to bed with me so I can slowly wake up. 🙂 Well this morning my 15 month old was really showing his personality! He was messing with his big sister. She is so great with him and let him. As they played they were both laughing so hard!


I thought to myself how children start each day with such excitement for what the day may bring! They start each day new. No worries or regrets from yesterday. No planning for tomorrow. They are simply excited about TODAY!


So that is my goal! View each day as a gift from God! And how should I accept such an awesome gift?
With JOY, LOVE, and HOPE! I hope you can do the same!


"Every good and perfect gift is from above, coming down from the Father of the heavenly lights, who does not change like shifting shadows. " James 1:17
Please let me know if you are a new follower! I am excited to find new christian blogging moms!
We would love 1 or 2 more host to join us. Please let me know if you are interested in co-hosting this hop!