Disney-Pixar's Cars 2 continues to be a hit at the box office! We saw it and loved it! My 5 year old daughter is a HUGE mater fan! My toddler son is a fan of all the cars! They get all excited just talking about Cars2!We are even planning to do a Cars2 birthday party for my son in 2 months. I plan to use this Tow Mater Cupcake Recipe. And as I look at Cars2 themed party ideas I was thrilled to learn about Mattel's NEW Cars 2 toy line available nationwide this summer!
Here are some of the highlights of Mattel's Cars 2 toy line:
· Perform Lightning McQueen's stunts from the movie with the Cars 2 Tokyo Spinout
Track Set. Load two Cars into the set's dual launchers to watch the vehicles zip toward the elevated spinning platform and whirl above the roaring river below. Only one car can claim victory while the other spins out of control and off the track. Set includes one die-cast Cars 2 vehicle. ARP: $29.99, ages 4+
· Relive favorite Cars 2 moments and create new adventures with Cars 2 Secret Spy Attack Finn McMissile. Fully loaded with "top secret" spy weapons, firing missiles, sound effects and thrilling transformations, Finn will make playtime "mission: nonstop fun." ARP: $29.99, ages 4+
· Recreate all of the heart-pounding racecar action and bring the major movie characters to life with Cars 2 Lights & Sounds Die-Cast Assortment. Lightning McQueen, Mater and friends come alive with real working headlights and revving sounds including their signature phrases from the film. Available in 12 different characters, the vehicles feature 1:55 die-cast scale.* ARP: $7.99, ages 4+
· With new vehicles debuting every month, kids will be racing to complete their collection of Cars 2 Character Die-Cast Assortment. The new 1:55 scale* vehicles come with a huge character variety, including kid favorites Lightning McQueen, Mater and new characters from Cars 2. ARP: $4.99, ages 3+*Toy cars are scaled to 1/55th of a regular car.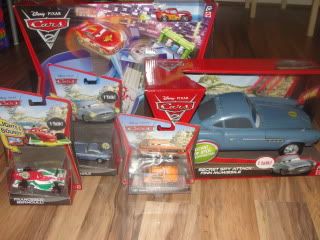 My Opinion: We had the awesome opportunity to try out many of the above toys and I am excited to say they did not disappoint! The kids immediately tore into the Die Cast Assortment. We had two that were lights and sounds and two that were the standard Cars 2 Character Die Cast cars.
While they kids were playing with the small cars mom and dad were tearing into the Tokyo Spinout Track Set. I have to tell you that we were as excited as the kids! This track set was like nothing we have played with before. I will say that it takes some time to put together. Being the instruction person I am I went step by step and it was fairly quick and easy. But you must follow the instructions! Once it was all set up we were ready to play. So all four of us sat down and started our engines!
You can see from the faces in the pictures this race track was a blast! The cars actually fly across the track and land on the track in a mater of seconds! Each time we were amazed! This is not something that you get easily board with! We have not put it up yet.
The Secret Spy Attach McMissle is full of surprises and so much fun. The kids have spent hours playing with McMissle car and Die Cast Assortment. I personally love Francesco Bernoulli! He is just as charming in a mini form as he is on screen.
And now you can bring home some of the new Cars 2 favorites! Mattel has offered to give one Living on Love and Cents reader a Car 2 Character Die Cast Assortment! A favorite of young boys and girls.
Giveaway Time: Win Car 2 Character Die Cast Assortment
Entry is easy. You use the Rafflecopter App below. Comments do not count as entries. To enter click on "do it" for each entry. You will see the entry description there. Then click on "did it". Do this for all of the entries you would like to enter. That is it. You can come back each day and do the daily entries.


Disclosure: I received the above mentioned products for the purpose of this review. No monetary compensation was received. All opinions are 100% mine.