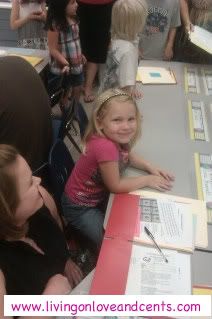 I can not believe it is true! Monday morning we start a new chapter in our lives. My oldest child, my little girl, starts kindergarten. I just can not believe that 5 years have past and the big day is almost here. This is just one of the many 1st we will experience in her life but wow it is a biggie for this mom! How did we get here? Seems like just yesterday we were celebrating the first smile, first night without a binky, first steps, first words, and now the 1st day of school!
Why is it so hard? Every time I talk about it I tear up.  I do not like to cry so I fight the tears as best I can. But something in my heart aches when I picture my little girl walking through those big doors and  into a  this new life. No more is it all about Mom and her little brother. Now her social life begins. It is hard to let go. I am not sure how my little guy will react when we drop her off and he sees that his days are now just him and mom. I know he will be confused and will have some emotions as well.
I want to let her learn to fly. I want her to be independent. I want this for her but it  will be a new challenge for me! Letting her venture into this new world of new things and people will be hard. I have been able to know exactly what she is experiencing and learning each day. Up til now I have been the one in charge of each day. I have been the smartest person she knows. But that is all about to change.
I smile! Yes I am smiling through my tears. I am trying to get super excited with her. Each thing – shopping for clothes, meeting the teacher, getting supplies, picking out the perfect backpack and discussing making new friends. She is overflowing with excitement! As I blink away the , I smile with her. It is the best I can do. When she does see the tears she can not understand why I would not be as excited as she is. And it is far to hard to explain! I do not even understand it!
I am praying for strength as Monday morning approaches. As I drop my baby off at school and my tears start to fall I will smile and wave! That is sure to be one of the longest 7 hours of my life. And as I pick her up and see the light of excitement in her eyes I hope I can blink the tears away and listen about her day! Then our new chapter will have begun!