Welcome to Stop #81 on Mompact Blog Hop
What is Mompact?
Mompact is a group of mom owned companies and bloggers who have joined forces to spread the word about mom businesses and products. Over 120 bloggers have reviewed products created by moms and they are also ALL giving away the same products to you! We designed this event to be like a game board like 'Candyland'.  Each blog is a spot on the board. At the bottom of each review and giveaway you will see a link to the next blog on the blog hop stop.  The Blog Hop is September 12-17.Blog Hop which will run from 12:01am on Monday, Sept 12th to midnight on Saturday, Sept 17th.  You have a opportunity to learn about over 120 products created by moms that are fabulous. You can also enter to win any or all along the way! To see all the blogs and companies participating visit Mompact.
There will also be a fun evening Twitter parties with additional giveaways on Thursday (15th) and Saturday (17th) evenings.
BeeStractors Emergency Entertainment
I had to opportunity to review the BeeStractors. I can not say enough great things about the BeeStractors! I have a 5 year old and 23 month old and I can think of very few things that they both enjoy.  Seems like they are just far enough that they do not find the same things enjoyable or stimulating. But that all changes this week when I received my BeeStractors.
BeeStractors are a part of the Buzzy company. They are also the creator of the Buzzy 4 Shots. Buzzy is a hand-held device, about the size of a computer mouse, which, through a combination of vibration and ice, minimizes pain from shots and other needle sticks like IV starts, blood draws and finger pricks. Buzzy uses natural pain relief by confusing your body's own nerves and distracting attention
away from the poke, thereby dulling or eliminating sharp pain.
They then went on to create a way to distract kids before shots, procedures or other scarey event that your child is about to undergo. They used research to understand medical anxiety and  distress. On the Buzzy site they show this diagram to help parents understand  distress is where pain, fear of the procedure, and attention to what's going on collide.  Often you can control most of the pain in a procedure, but if a person is focused on what is happening and utterly terrified, no degree of pain relief will help. That is the purpose of the Buzzy "Bee-Stractor" distraction cards. The goal is to take the attention away from what is about to happen thus minimizing the  fear of it. Their website talks a bout an interesting study of patients who were distracted by video games to help with pain and anxiety. After realizing that distraction can significantly decrease the pain they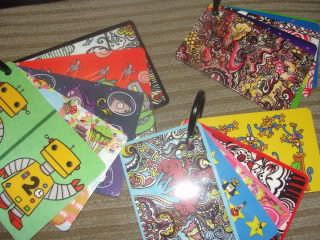 created these awesome cards to help do just that.
The BeeStractors are a set of cards on a plastic ring. They have a colorful picture on one size with questions on the other. And one thing I loved it that there are questions for a wide range of ages on each card! So the same ring can be used for my 5 year old and 23 month old. Questions can be things from "Can you find…" or "What is the Clown holding?" or "How many …. do you see?" Each question requires full attention and deep considerations.
So what did I think?
BRILLIANT! That is the best word I can think to describe the BeeStractors. I have not needed to use them in the doctors office but quickly realized these have so many other uses! My favorite use of these is in the car! Road trips or even trips across town are really hard for us! Usually both kids are crying and very unpleasant in the car. When that happens we all end up more stressed out. Below you can see photos of me and my kids using the BeeStractors to get my kids attention off the fact that they were bored. They were ready for dad to be home so we could go out for the evening and they were very upset because they were bored. I used this opportunity to give them a real distraction test. We sat down and I started reading the questions of the back. What was the most fascinating was that my 5 year old, who is usually into the electronic toys, loved the cards. We lost track of time and before I knew it we had been playing with the cards for 1 hour! Now that is awesome! We had finally found something that all 3 of us could enjoy and be entertained by for a full hour. I can not say that about most thing.
I now carry them in my purse. I have pulled them out in the car many times. I also pulled them out the other day when I had an appointment and we had to sit in the waiting room for a long time. In all these instances the BeeStractors were my life saver! Even after seeing the cards many times they still have to concentrate to find the answers again so they never get old. The Bee-Stractors are brilliant!
Bee-Stractors come in three different sets, with the "Monkeys" set also available in Spanish.
BIG BEE-STRACTOR CARDS (ROBOT SERIES) $7.96
BEE-STRACTOR CARDS (MONKEYS SERIES) $6.95
BEE-STRACTOR CARDS (COWS SERIES) $6.95
Buzzy on Facebook and BeeStractors on the Buzzy site
Sign up for Buzzy Newsletters here
The Buzzy site has many other great resources for parents. Find information of groups including those who have children with brain cancer or diabetes. They also have great videos and fun facts.
Giveaway Time!
Now enter to win a BeeStractor set of 3 rings of cards just like I reviewed. You will receive : BIG BEE-STRACTOR CARDS (ROBOT SERIES) ,BEE-STRACTOR CARDS (MONKEYS SERIES) ,and BEE-STRACTOR CARDS (COWS SERIES) .
A few important things:
This giveaway will be open for one week.
This giveaway is open in the U.S. and Canada
The winner will be announced on  Living on Love and Cents. You can see the winner in the Rafflecopter in this post as well as a winner post. The winner will have 48 hours to respond with their full name and when they will pick up. If no response is received another winner will be picked. Winners are chosen through "Rafflecopter's And The Winner is". Be sure you have signed up for emails from Living on Love and Cents so that you do not miss this post.
Enter using the Rafflecopter App below. It takes a minute to load. To enter you will click on "do this" to see the entry method. Then after you have don the task click on "did this". You will be asked your name and email. Daily Entries can be done each day.
You must do the easy mandatory entry! All others are extra but increase your chances of winning.
When liking Buzzy or Living on Love and Cents on Facebook a comment saying that you  are entering this contest or a simple "thank you" would be a great gesture. BUT it is not required!
NEXT Mompact stop: Now it is time for spot #82. Visit Multi-Testing Mommy and see her review and giveaway of the Twoothtimer. For more about Mompact visit their new site here!
I received this product in exchange for my review. No monetary compensation was received.