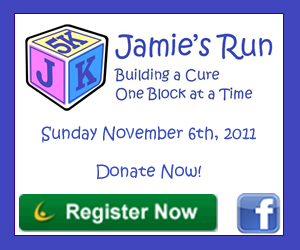 This post is courtesy of This Mama Loves Her Bargains.

Its time to change gears a little bit here. I will be running my first 5k on November 6th…(yes, RUNNING – well, truth be told, its really more a "perky walk" but I will be running Jamie's Run, aka the JK5K-(want to sponsor? Head to Active.com and find me), this year, not walking, and my 2 older kids will be running again. Why?
You see, our lives, as so many others, have been forever touched and changed by a sweet little angel named Jamie Lynn Knotts. Jamie was born just 2 weeks before my youngest, and lost her battle with a very rare cancer at just 5.5 months. Jamie should be here, playing with her brother, having friends, being a 2 year old and loving her life, but unfortunately, her fight wasn't a fair one, and she didn't win. I remember at her funeral, the priest spoke of Jamie as a Love Magnet– and she was, still is, in fact. Her story went out to so many- her parents' family and friends, our MOMS club, her parents' coworkers, their friends, their families- my friends, my family, their friends and family…and word spread. There were people all over the world praying for a miracle for this sweet, beautiful girl. That's a lot of love poured out for a tiny little girl- but it brought so many together when so much tears us all apart these days. It even inspired a wonderful children's musician, Frances England, to write a song for Jamie.

Its a very sad story, that for many might have just ended on a sad note, but with parents like Kurt and Kelly Knotts, the story doesn't end- it goes on a different path, one of help, of hope, of love and of light. Kurt and Kelly turned their pain and grief and channelled that energy into helping others- last year, to help raise money for a treatment center at Connecticut Children's Medical Center, this year, for clinical trials. I don't need to go into all of this- you can find it all out at www.jamiesrun.org.
I would love if you want to sponsor me for Jamie's Run, but even more importantly, it would make me so, so happy if you would read the story, and share about the race with your friends and family. Like Jamie's Run on Facebook- share the website or event on your Facebook wall- make a donation- bring a meal to a family who is living through the same experience the Knotts did- just share, or pray, or, if you are local, come JOIN us. Please. The realities of cancer are cruel and ugly and its because of events like this that maybe one more child or family gets some support or help- or one more child can be part of a clinical trial.
Thanks to This Mama Loves Her Bargains for sharing this!