It is the time of year for parties and photos. That means shopping! I wish I could say I start shopping early for our events but the truth is I wait till the last minute. I wait because I dread shopping for clothes for me. It is so much fun shopping for my daughter but not for me. This is partly  because it is so hard to get out of the house with the kids to shop in the stores, but more than that it is so hard to find a "good fit" online. That was until I discovered the Shabby Apple.
Shabby Apple is an American online dress boutique selling women's dresses, casual dresses, skirts, and women's apparel. The company designs a Shabby Baby line of dresses for girls 0-6 months to size 8, a preteen line, Shabby Sister, for girls ages 8-15, and a maternity line, Mama Apple. This means one stop shopping!
Why do I love this site for women? Simply stated, it is easy to find the perfect dress for ME! Shabby Apple's "Fit to Flatter" guide outlines which dresses work best for
each body type. Shabby Apple also offers style advice and suggestions. I used these tools to help me find a perfect holiday dress. And for those of you wondering, YES, they have plus sizes!I used the the "Shop by body type" tool. It was so much fun! I had 3 questions to answer. After answering the questions I was told that my body type is an APPLE.
Apple:

Lovely limbs. You have thinner legs and arms, accompanied by fullness through the ribs and stomach.

Style icon: Catherine Zeta-Jones

Style tips: Look for clothing that accentuates your legs and arms. Loose-fitting waists, empire waists, short sleeves and knee-length skirts are best for you.
That is right! Then I was directed to see dresses perfect for an apple figure.They then show you styles that would look best on you. You choose the styles you like and then shop those styles. It is so easy! You will also love that 95% of the dresses are under $100!
After shopping for my party dress I was excited to shop for my daughter. The dresses are simply adorable! Seriously! They will all make you say "Aw I love that one!" And the best part is that they are affordable. They are exactly what I would pay at the department store. Many are actually less than I would pay! Each dress clearly states what sizes are available. After much searching I decided on the Black, White and Pink All Over Dress. because it was the perfect balance of pink, elegance and comfort for my little girl.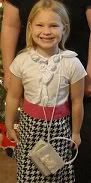 She loves this dress! It quickly became her favorite! She wears it every chance she gets. We took photos for the Christmas card and this was the dress she choose. When the weather got colder she simply added a white long sleeve shirt underneath and black tights for warmth and wore it some more! I can tell she feels beautiful in her Shabby Apple dress.
I also have the talk about the quality of the dress. It is awesome. As I mentioned this dress gets lots of wear! That means lots of cleaning. Washing is easy with this dress. I put it in the wash and hang dry. It is still the same bright colors and the same size. I am very pleased with this dress! I plan to buy MANY more from Shabby Apple!
BIG SAVINGS:
Shop Shabby Apple today and save 15% PLUS free shipping! Also find out how you can get a $20 gift card and 10% off at Shabby Apple.