Wuggle Pets
Bring A Baby Pet To Life In Your Home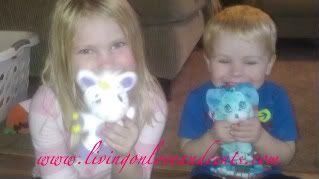 My kids love their stuffed animals. One of my daughter's favorite places to go is Build a Bear Workshop. I had no idea that you could bring the the idea of bringing a pet to life to your home! Wuggle Pets makes that possible and at a fraction of the price!
Wuggle Pets has 2 packages available: The Starter Pack and Party Pack. Both come with everything you need to create your new friend. The starter pack is what I was able to enjoy this week.
Cuddly Puppy And Magical Unicorn Pets With Clip Attached
1 Fun Filled Factory
2 Bags of Fluffy Stuffing
12 Personality Charms Pet Pet
2 Bags of Magic Dust
2 Birth Certificates
1 Zipper-Up Tool

This is the Wuggle Pets Commercial that you will LOVE!

My kids were thrilled when I opened the box and they saw what was inside! I could not help but squeal along with them! It was so exciting! We took out all the pieces and got ready to create our pets. Within a second my son put his claim on the blue puppy and my daughter grabbed the unicorn! It was the perfect combination for my kids!
The website says it is for ages 4 and up but my 2 year old LOVED it just as my 5 year old did!  We  started with my daughter and she took full control of the process! She was able to put the stuffing in the Fun Filled Factory and add the magic dust.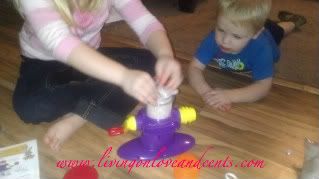 Together we put the lid back on and then she took it back! She was able to turn the handle to start filling the unicorn. It was really great that you could see the stuffing through the tubes. This helped us know when we were done or if it stopped pushing the stuffing.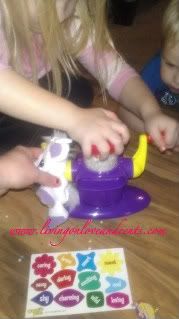 Once the stuffing process was complete we removed the pet from the factory. She then chose the personality charm that she wanted to give her new pet. She choose SWEET. She stuck the charm inside and then we zipped it up!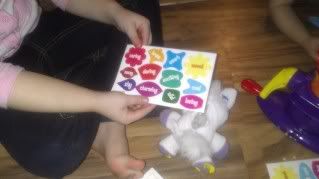 That was it! That quickly she had brought her Wuggle Pet to life! The clip attached to the pets is perfect for clipping on a bag or backpack. That is exactly what she did and could not wait to show her friends!
My son, who had been watching carefully, was next. I had to help him alot more but was able to do it!
The whole process was FUN and EASY! It was exciting for me and the kids. Now they have a memory of us spending time together creating these pets. And they have a companion to love! AND THEY DO LOVE THEM!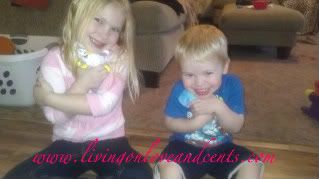 We are considering getting the party pack for my daughter's birthday. It would be a fabulous way to entertain as well as a thing for the kids to take home! Each pet comes with a birth certificate, magic dust, personality charms, the zipper tool and fluffy softness and each order includes one fun filled factory to bring your Wuggle Pets to life. The Party Pack is our the value. It features all 8 Wuggle Pets for $49.99 plus $7.99 shipping and handling.That is awesome! You can give to 8 kids and see their eyes filled with love as they create and love their Wuggle Pet!
Buy it!
Wuggle Pets Starter Pack: Cuddly Puppy And Magical Unicorn Pets With Clip Attached,1 Fun Filled Factory,2 Bags of Fluffy Stuffing, 12 Personality Charms Pet Pet,2 Bags of Magic Dust,2 Birth Certificates,1 Zipper-Up Tool $19.99