SPOTLIGHT/ GUEST HOST OF THE WEEK
This week's spotlight is She's Mommafied . This blog is #5 on the linky this week. Stop by and tell her hello!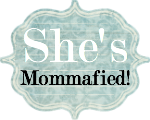 I'm a 22 year old stay at home mom to a very energetic 8 month old girl, and a long time girlfriend of a firefighter. My blog is a mixed bag of pictures, funny anecdotes, and life experiences including natural birth, PPD, miscarriage, breastfeeding, cloth diapering and also the not-so-crunchy parts of my life such as modeling, partying, clothes and makeup. My posts are my unfiltered chronicles of keeping up the balance between being ME and being a MOM. Great giveaways, too!
Would you like to be our spotlight? Follow these rules and leave a comment! We will randomly choose one blog to be spotlighted! Then you will be added to our linky!
Will it be you?
1. Follow the Making Friends Monday Hosts publicly(Listed as # 1-4) We WILL follow you Back! LEAVE A COMMENT so we can follow you back!
2. Grab our Making Friends Monday button and include it in a post on your blog. Grab our linky code to for even more followers!
3. Start hopping and remember following back is appreciated!