Women in the Word
(Fellowship on Wednesday Blog Hop)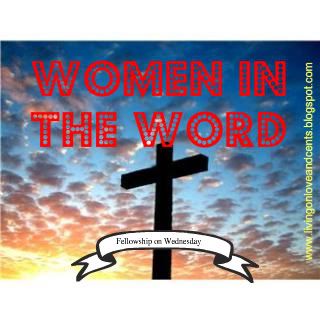 Living on Love and Cents , My Slice of Sanity, One + One = Four and Flutterbys And Frogs have joined together to bring you Women in the Word Fellowship on Wednesday". I hope you will join us! Once a week we will share about our time in the word and have you share your time "in the word" as well. There is a linky at the end of each post. You do NOT have to post a devotion, scripture or anything unless you want. If you have words of encouragement or a devotion post to link up that would be awesome! If you are a "Woman in the Word" and would like to find other Christian Bloggers –link up! Please grab the button to spread the word about our fellowship! I am looking forward to our fellowship! I hope we can all encourage one another each week!
Now for my weekly "Women in the Word" time!
This week I am focusing on PRAYER! Prayer is so powerful! It is so important to make prayer time with God everyday!
Even Jesus made quiet time time pray- "Very early in the morning, while it was still dark, Jesus got up, left the house and went off to a solitary place, where he prayed." Mark 1:34-36.
He instructs us to bring ALL of our worries to him! Nothing is to small! "Do not be anxious about anything, but in everything, by prayer and petition, with thanksgiving, present your requests to God." Philippians 4:6.
Sometimes life can be so overwhelming. Rememer you are not in control! God is! We have to pray for his direction and strength! I have had moments when I was so overwhelmed all I could do was pray and then there have been other times where I was so weak I felt like I couldnt pray. That is why we need our christian brothers and sisters to lift us up.
THIS WEEK I WANT TO PRAY FOR YOU! How can I pray for you? Please tell me and I will lift you up this week!
Each week we will spotlight someone who linked to an uplifting scripture/devo/ thoughts etc. from the previous week. This week's spotlight is Heather from Pieces of Me. Please stop by and tell her hello!

Please let me know if you are a new follower! I am excited to find new christian blogging moms!