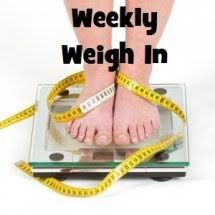 Hello! I am back! Did you miss me? This was week 24 for me on the Nutrisystem plan. I skipped last week's weigh in and I want to tell you why. I think it is important that you know the ups and downs of MY journey in order to help YOU on your journey.
So many things in your body change when you start losing weight. It is so important that you work with your physician especially if you have any health issues. They are almost certain to agree that if you are over weight then you should lose weight. However you need to work with your doctor because some things may be changing as you lose the weight.
My doctor and I talked before I started Nutrisystem. I explained the program to him and he agreed that it was a great idea. My only health issue was that I have had thyroid problems for my whole life. But it had been stable for over 15 months and I felt great! Well after that first 20 pounds I started noticing changes in me. I realized something was not right. I saw my doctor and he did blood work. Since I had lost weight my thyroid levels had changed. So we started working on my medicines. The thyroid controls so many things! Emotions, weight, energy, and more! My thyroid has always had a direct impact on my mood. I suffer from depression and also have that treated with medication. So when my thyroid went wacky so did my other chemicals and as a result I was battling depression again! This is very personal for me but I hope in some way this helps someone else out there! We are still working to get my medicines and levels stable. And we realize that they may continue to change as I lose weight. This is very hard but only temporary!
Even with all of this struggle we both agree that the weight loss is in my best interest and I NEED TO CONTINUE!It has been hard to stay committed during the weeks of feeling so bad. But I am trying!

Thank you for letting me share my story. Please note this is MY story and does not happen to everyone. I just want to share this with you to show how your weight directly effects so many health issues! If you have ANY issues you should definitely work with your dr closely.All of these issues can be worked through!

And lastly I want to add that Nutrisystem is focused on your health. And when I told my Dr what I eat he was VERY impressed. NS does not starve you or encourage you to count calories! It is all about servings and portions. And fruits and veggies are VERY important. And… IT WORKS!

Here is my weekly weigh in….

I am back at 160.6. So I am up a little but that is ok.
Be sure you check out my video on a typical day on Nutrisystem. This will give you a good idea of the foods I eat to help lose weight. Also I have a video on the Nutrisystem app that you can check out here.
Reflection:
Starting Weight
189.8
Week 24
160.0
Your support

is very imp
ortant
!Thank you for joining me on this scary yet exciting journey!Please also support my friends as they also share their Nutrisystem Experience and join me on this mission to LOSE!
Join in the Nutrisystem Bloggers conversation on Twitter using

#NSNation

.
Would you like to lose weight and get healthy on Nutrisystem too? Visit Nutrisytem or call 888-853-4689 to get started today.
**All products have been provided to me free of charge as a selected blogger of the Nutrisystem Nation Blogger Program. All opinions are 100% mine and no monetary compensation was given for my opinion.**