This was week 20 for me on the Nutrisystem plan. Be sure you check out my video on a typical day on Nutrisystem. This will give you a good idea of the foods I eat to help lose weight. Trust me you will be surprised and amazed! Later today you will see a vlog on the Nutrissytem App. Stay tuned for that!

So this week was frustrating. It occurred to me that I have not lost weight in 4 weeks. Apart from the 2 pounds I gained and then lost the following week, nothing has happened! Yes this is frustrating. And this is the point I would have throw in the towel before. I would just give up. But not this time. I am determined to make it to my goal!
So I called the fabulous Nutrisystem Dietitians. You can talk to them online or over the phone. I called and got a sweet girl named Heather. I explained my situation. I told her my frustrations and that I needed help. She was so supportive. She had me talk her through a typical day for me on Nutrisystem. I told her how I have been doing the same thing for 20 weeks and it just STOPPED working the last 4 weeks. She gave me lots of great advice. Her advice was specific for my situation. I would HIGHLY recommend if you are using Nutrisystem that use utilize the services avaliable to you like the counselors and dietians! They are fabulous and want you to do well! So…. I will start the new things that she suggested today! She said this should show results by next week. Hopefully I will have a loss to share with you next week. 🙂
I do not have an exciting weigh in for you. But I want to show that I am a REAL person and share this journey with you.( The good and the bad) So here it goes…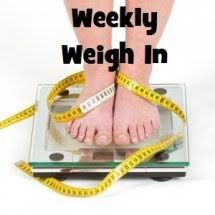 Yep–the same as last week.
I want to leave on a GOOD note! So here are some pics of my 18 month old joining me for some 30 day shred with Jillian Micheals this week. 🙂 I love my support team! (Excuse the mess in the back. We were spring cleaning and that included the walls. :))
Starting Weight
189.8
Week 19
159.8
Week 20
159.8
Your support

is very imp
ortant
!Thank you for joining me on this scary yet exciting journey!Please also support my friends as they also share their Nutrisystem Experience and join me on this mission to LOSE!
Join in the Nutrisystem Bloggers conversation on Twitter using

#NSNation

.
Would you like to lose weight and get healthy on Nutrisystem too? Visit Nutrisytem
or call 888-853-4689 to get started today
.
**All products have been provided to me free of charge as a selected blogger of the Nutrisystem Nation Blogger Program. All opinions are 100% mine and no monetary compensation was given for my opinion.**